Useful Features of MBOX to Outlook Converter Tool
Multiple MBOX File Conversion
With "Add File" and "Add Folder" option of MBOX to Outlook converter, it is possible to select more than one MBOX file at once to convert it to PST file format with folder hierarchy maintained.
Generate Single or Multiple PST Files
This MBOX to Outlook utility gives two options to save the PST file: Either a PST for all MBOX files will be created or for every MBOX file, separate PST file will get created. Convenient option can be chosen.
Export Selective Folders or Items
Using this advanced feature you can export selective folders or emails into Outlook PST, EML, MSG and NSF formats respectively. You can simply check/uncheck the emails or folders to perform selective data conversion under Windows OS.
Preview Contents of MBOX File
Before conversion, MBOX to PST converter software gives a preview of MBOX file emails and their attachments within software panel. Email and Attachments View section of MBOX to Outlook converter helps to view MBOX file data.
Naming Convention for Emails
MBOX to Outlook converter gives option to Transfer MBOX File to MSG and EML too. For resultant emails in any of these file formats, naming convention option is activated that helps saving mails with convenient name.
Divide Outlook PST File by Size
During the MBOX to PST conversion process, the app offers splitting the data of the output PST file. Select a required file size in MB or GB as per your requirement and split the resulting PST file into multiple parts.
Search MBOX Files from A Folder
The MBOX to PST converter tool is capable to scan, filter and search MBOX files amongst different types of files within a folder. Thus, this function is completely helpful for you to select multiple MBOX files from a particular folder whether you are converting in different platforms.
Supports Windows 64-bit
MBOX to Outlook Converter tool is a fully Windows based software that supports all its previous and later versions. After a recent update, the tool also started supporting 64-bit versions of the Windows OS.
Convert MBOX to PST from Several Email Clients Given Below
Export from Apple Mail to Outlook
The messages of Apple Mail application saved in MBOX file can be converted into Outlook MSG, PST, EML or NSF file formats with all mail properties intact after conversion.
Migrate Entourage Email to PST
Just drag Entourage mail folders and drop them on desktop. This will generate MBOX file which can be converted into Outlook readable PST with this MBOX to Outlook conversion tool.
Convert Spicebird Mails to Outlook
The email store of Spicebird is MBOX file. With the help of this application, it is possible to convert MBOX to PST that allows opening Spicebird mails in Outlook.
Thunderbird Email to Outlook PST
In Profile folder of Thunderbird, MBOX file having emails of Thunderbird exists. Import this MBOX file to the tool and convert it to Outlook PST file format in simple steps.
Convert Eudora Emails to Outlook
The mail folder of Eudora gets saved in .mbx file format. Copy this .mbx to any location in system; right click on it and change extension to .mbox after which it can be converted to PST file. Tool used for Eudora MBOX to Outlook conversion in a smooth manner.
Easily Convert Turnpike to Outlook
Turnpike uses MBOX file format to save its mail. With the help of MBOX to PST tool you can convert Turnpike emails to Outlook supportable file format that is PST. It allows user to open Turnpike mail in Outlook mail client application.
Export Pocomail to Outlook PST
The mail folder of Pocomail gets saved in MBOX file format. Through this application, it is possible to migrate mails from Pocomail to MS Outlook.
Convert MBOX into These Reliable Formats
Convert MBOX to PST File
When there is a need of proceeding the conversion of multiple mails in MBOX to PST then using our application is the best choice to make. This is because the tool offers a special feature of 'merging multiple MBOX mails into a single MBOX file' so that you can switch unlimited number of MBOX mails to PST as a single MBOX file at a go.
Convert MBOX to EML File
Software is now updated with more advance features and can migrate MBOX to EML files with attachments. With this option, you can create .eml files for all the emails within MBOX file. These EML files can be used within various desktop email clients like Windows Live mail, Outlook express, Windows mail.
Convert MBOX to MSG File
Create .msg files for emails within MBOX files with MBOX converter. The program helps you to export MBOX emails into .msg format alongwith attachments. You can also open these MSG files in Outlook or Outlook Express through the email drag and drop option.
Convert MBOX to NSF File
Software to convert MBOX to PST is now upgraded with version of 2.4 and offers users another option to convert MBOX files in NSF format. This exclusive property makes this tool more adorable and capable among others. To migrate MBOX to Lotus Notes your machine should be installed with Lotus Notes of any version from 9.0 to 6.5.
Download MBOX to PST Converter Software
The MBOX to Outlook Converter is available as a freeware trial edition that lets export only of 25 MBOX mails to PST for demonstration purpose and not more than that.
Download for Windows
100% Secure
System Requirements:
The MBOX to PST Converter tool Support: Microsoft Windows 2000, 2003, 2008, XP, Vista, or Windows 7 & 8 (32-bit or 64-bit)
Processor: 1 GHz processor (2.4 GHz is recommended)
RAM: 512 MB of RAM (1 GB is recommended)
Disk Space: 20 MB of free hard disk space
Check the Screenshots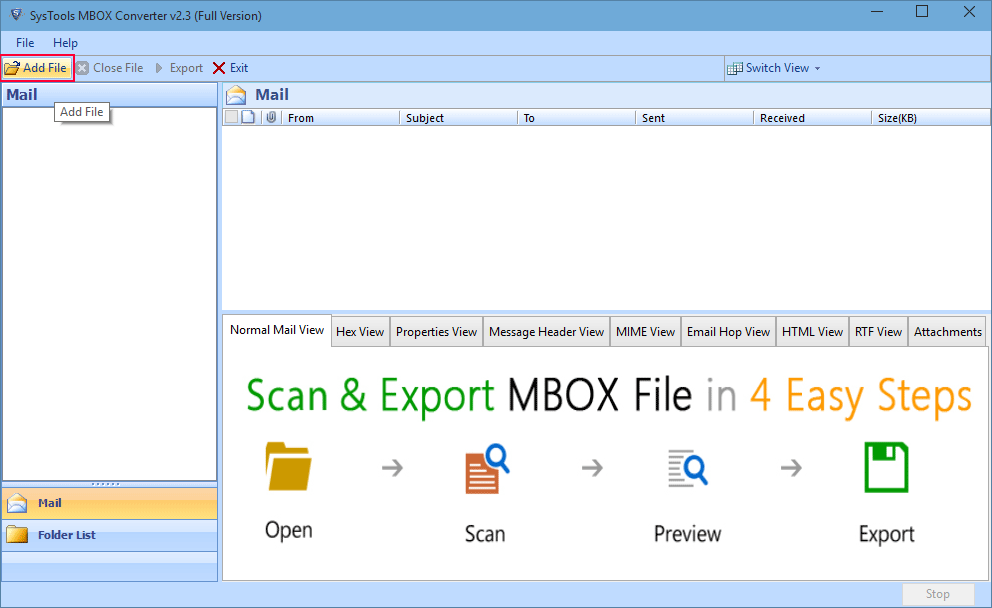 Step1: Add MBOX File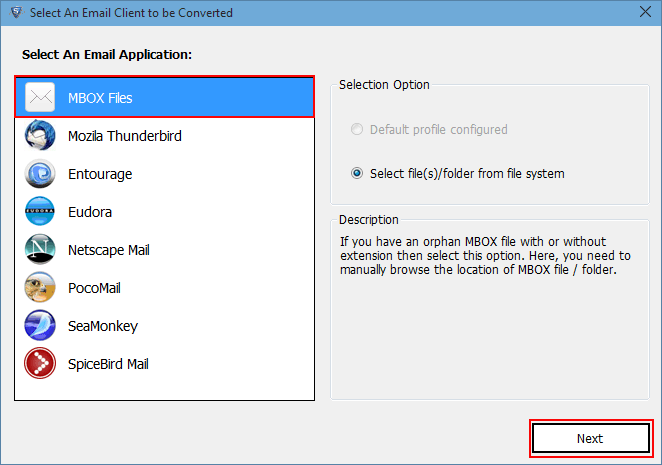 Step2: select "MBOX Files"

Step3: select Browse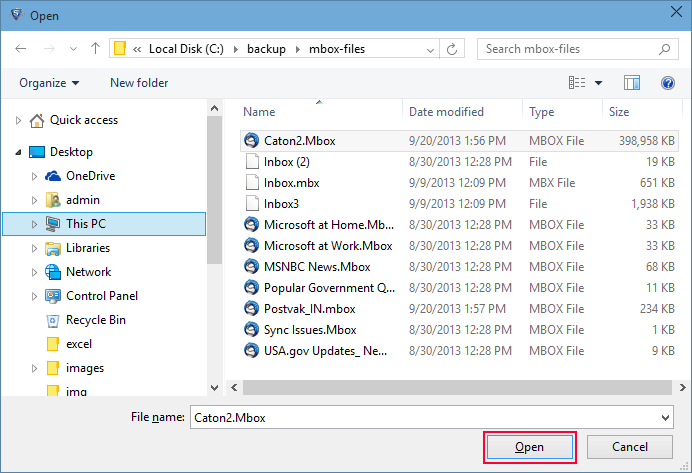 Step4: select Open
What Clients Says's About MBOX to PST Software?
MBOX to Outlook Converter is the powerful tool to import MBOX to Outlook 2010, it is my personal experience. When I was stuck in urgent need to shift bulk emails from MBOX to PST, business license of the software helped me effectively. Instant and appropriate email conversion with this software is really amazing. Thanks for formulation of such brilliant application to extract MBOX emails to Outlook.

— Danilo From Itally
Excellent Tool for converting the MBOX files into PST and accessing them in Outlook. The availability for both Mac & Windows platforms makes MBOX converter special as I can use the tool on both platforms. Recommended utility for MBOX files conversion in simple steps. Thanks to the developer.

— Mark Butcher From US