Do you have MBOX files that you wish to convert into EMLX format? Use this MBOX to EMLX Converter available for Mac OS and transfer all your email messages into EMLX files.
MBOX file is the simplest of mailbox storage files used by over 20 email clients globally. These email applications include Mozilla Thunderbird, Apple Mail, The Bat!, etc. It saves multiple email messages in a concatenated manner within the same MBOX file. There are different types of MBOX files such as files with no extension, .mbox, .mbx, and .mbs.
On the other hand, a file with .emlx extension is known as EMLX file. It is also called Apple Mail files since it is associated with Apple email client. This is typically a plain text file that stores single email messages. EMLX files can most certainly be opened using Apple Mail application. However, text editors can also be used to view these files. Converting MBOX to EMLX is a great way for users to save each and every email message from MBOX file into single message files. And to do that we will guide you through the proper steps.
How to Export MBOX Emails to EMLX File Format
Technically, the best way to convert MBOX file into EMLX format is by using a professional solution. If you look on the internet, you will find many tools promising to be the best at what they do. However, that's not the case. Only a selected few are capable of getting the results in an easy and efficient manner. MBOX to EMLX Converter is designed with the sole purpose of converting MBOX files into EMLX format without any issues. In addition to the EMLX format, the tool also supports conversion into EML, PST, MSG, PDF, HTML. It provides an intuitive user interface to allow even a novice user to understand and carry out the conversion without any prior experience.

Working of the MBOX to EMLX Converter Software
We have defined the conversion process in two different forms: In brief and in Elaborated form. A user can go through the steps and implement them as per requirements.
Step by Step Working of MBOX to EMLX Converter
Step 1: Run MBOX to EMLX Converter on Mac system
Step 2: Add "MBOX Files" for MBOX to EMLX Conversion
Step 3: Apply Adv. Settings on MBOX files
Step 4: Choose "EMLX" format as Output type
Step 5: Conversion is Successful.
Step 1: To start migrating multiple MBOX mailboxes into EMLX, first download, install and run the software on the Mac machine.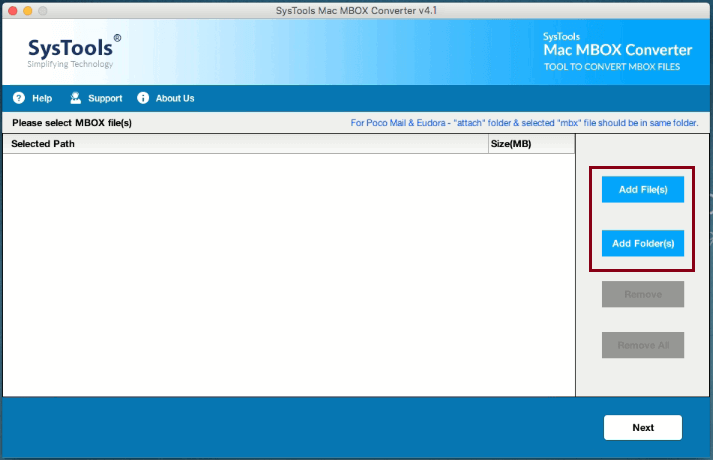 Step 2: Click on Add File button and add MBOX files into the tool's interface.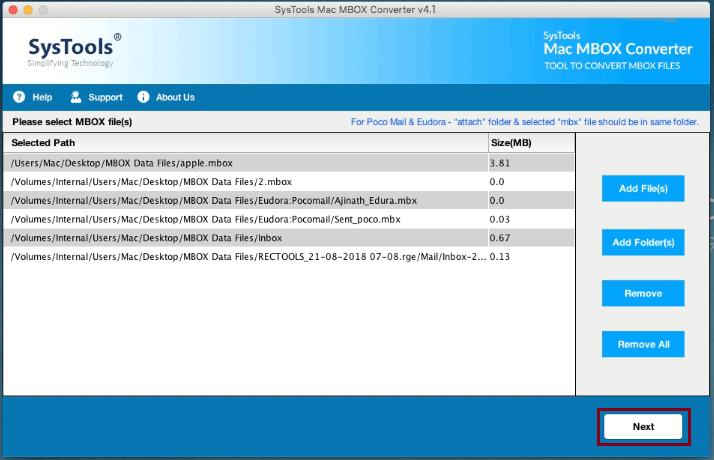 Note: You can also use the Add Folder button to select multiple MBOX files at once and add them into the software interface.
Step 3: Now, select the EMLX file format from the list of given export options and mark the Maintain folder hierarchy option as per requirement.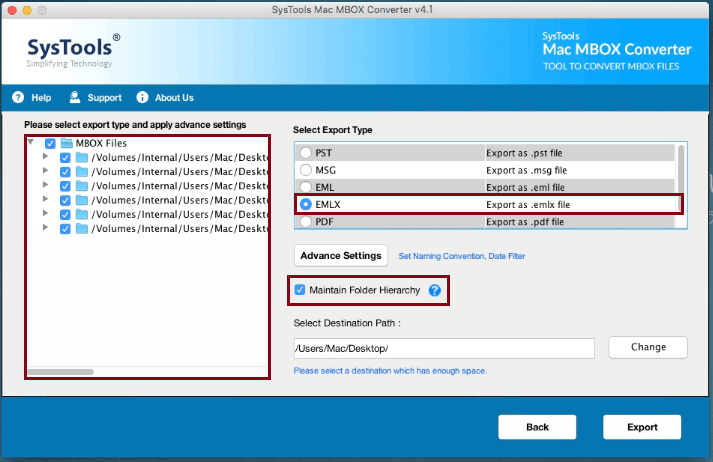 Step 4: Click the Advance Settings button and apply the following optional settings:
Naming Convention: Use this option to save the files with appropriate names based on multiple attributes such as Subject, Date, etc.
Date Filters: This setting enables a user to select and export email messages from MBOX to EMLX that fall in between the set dates.
Once applied, save the changes accordingly.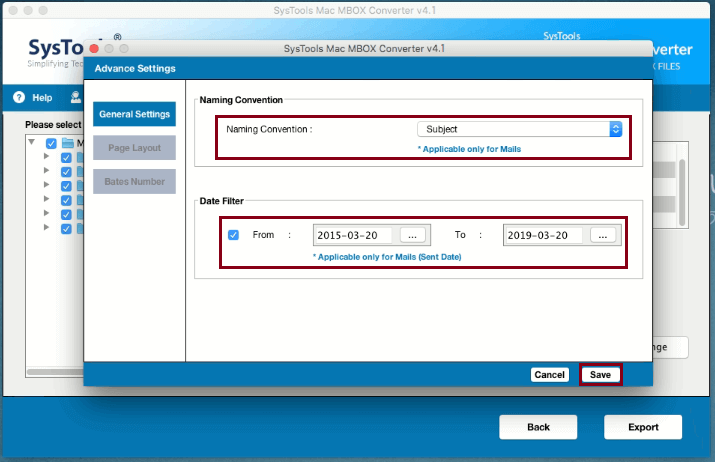 Step 5: Now, click on the Change button and choose the preferred location to save the EMLX files.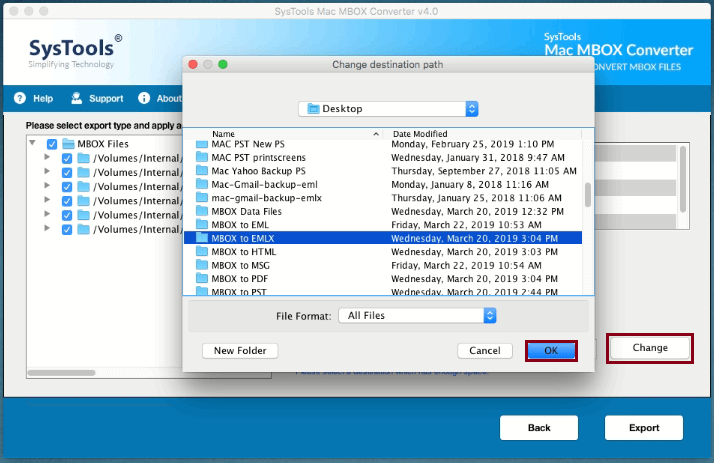 Step 6: Finally, click on the Export button to start the conversion process.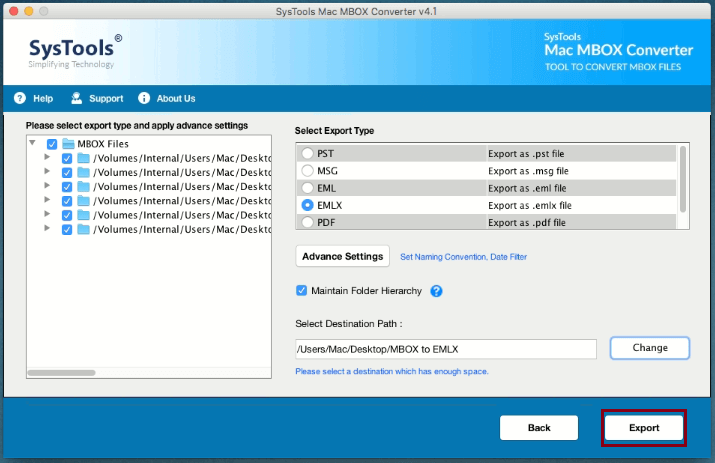 Step 7: Click OK on the confirmation window.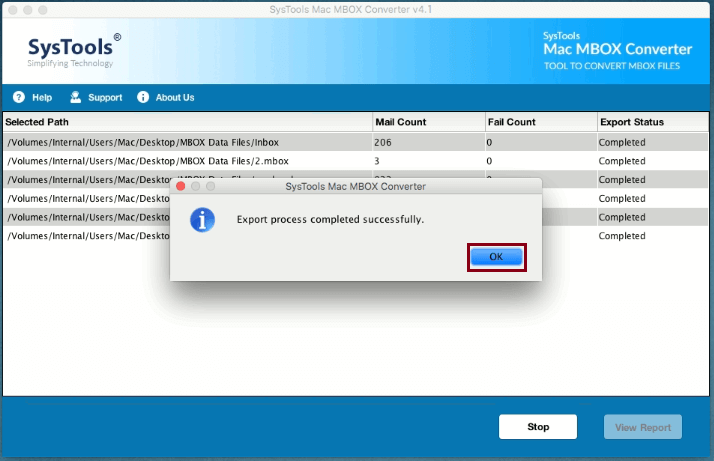 Step 8: Navigate to the location of the selected destination folder and check the converted EMLX files.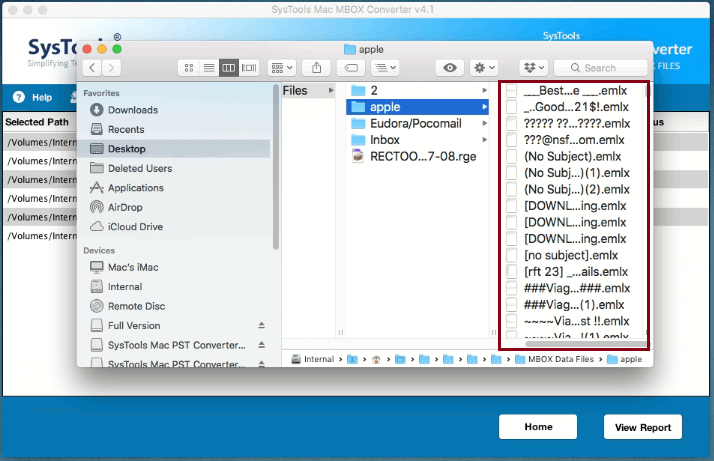 Want to Try Before Buy? No Problem
The demo version of the tool is also available for a quick sneak-peak into the software's working. It helps users to understand the tool and see how it performs in real-time instead of going on our words.
Simply download the MBOX to EMLX converter for free and export 25 emails per folder to EMLX format. You can purchase the Mac tool Only after your satisfaction with the conversion results.
Summary
In this article, we demonstrated a proficient solution for users to convert MBOX to EMLX files. The software plays an important role in converting the MBOX emails without losing attributes. Professionals can also save a complete report summarizing the process. Using this software, even a non-technical user can easily perform MBOX conversion to EMLX format. It is the ultimate way for hassle-free migration. So, simply use the software and convert either selective or batch MBOX files into EMLX format without any inconvenience.